August 27, 2014
CNRP deputy leader Kem Sokha (front left) sits alongside party president Sam Rainsy yesterday during a National Assembly session during which lawmakers voted in parliamentary heads. Heng Chivoan
Wed, 27 August 2014 ppp
Meas Sokchea
The election of the National Assembly leadership began in earnest yesterday, with proceedings in the newly filled parliament going largely to plan despite a few deviations from the agreed-upon script.
Among them was the apparent reluctance of Nguon Ngel to vacate his chair as first deputy president chair after the opposition's Kem Sokha was voted in to the position.
Although Prime Minister Hun Sen had publicly pledged that his 68 ruling Cambodian People's Party lawmakers would abide by the July 22 political agreement that stipulated both parties would nominate a Cambodia National Rescue Party candidate as first deputy, a few CPP members also presumably decided to use the anonymity of the vote to express their dissent.
Four lawmakers voted against Sokha's appointment, while two others abstained. With the absence of Palace Minister Kong Sam Ol – who is in China with King Norodom Sihamoni – Sokha received 116 votes out of a possible 122.
Dissent, from the CPP or otherwise, was nonexistent in the unanimous vote appointing Ngel as second deputy president, replacing Khuon Sodary and making way for Sokha.
But while Ngel was easily replaced by Sokha via the ballot, it took a bit more to get him to physically vacate his seat.
As Sokha's nomination was announced by parliamentary president Heng Samrin, Sokha rose and made his way to the podium, formally greeting Samrin and then Ngel, who was seated in the first deputy's chair to Samrin's right.
After it became apparent that Ngel was not moving, Sokha ambled towards the empty chair of second deputy Sodary, now Ngel's seat, to Samrin's left. He stood there awkwardly for a few moments before Prime Minister Hun Sen rose from his front-row seat and exhorted Ngel to vacate his seat.
Ngel did not move, and he and Samrin instead appealed for the signage on the chairs distinguishing the first and second deputy to simply be swapped, as lawmakers began to laugh at the absurdity of the situation.
"Just walk [over there] quickly, it's not a problem," Prime Minister Hun Sen said again.
"Please, Excellency Nguon Ngel. Go to that side."
After several minutes, the premier began to lose his patience.
"No, it is not right [that the signs be swapped]. Just for this, what is the difficulty? Just one [of you] walks to sit at that side and one comes to sit at this side. It is not even a little bit difficult."
Finally, the pair swapped positions to applause from the assembly.
August 26, 2014
លិខិតថ្លែងអំណរគុណតុលាការនិងក្រសួងយុត្តិធម៌(អច្ឆរិយ:)
ខ្ញុំព្រះករុណាអាត្មាភាព លួន សុវ៉ាត សូមកោតសរសើរនិងថ្លែងអំណរគុណដល់តុលាការ និង ក្រសួងយុត្តិធម៌ កម្ពុជាដែលបានខិតខំធ្វើការបំរើជាតិយ៉ាងមមាញឹកស្វែងរកមេដឹកនាំ ភេរវកម្មជន ប្រព្រឹត្តិបទល្មើសឧក្រិដ្ឋ ទាំងនៅក្នុងប្រទេសនិងក្រៅប្រទេសឃើញគឺព្រះភិក្ខុ លួន សុវ៉ាត ដែលបួស ជាង20ឆ្នាំ ជាសកម្មជនអ្នកការពារ
សិទ្ធិមនុស្ស សិទ្ធិលំនៅដ្ឋានដីធ្លី សិទ្ធិធនធានធម្មជាតិ ព្រៃឈើ និងយុត្តិធម៌សង្គមជាដើមនិងដែលដើរទេសនា
ធម៌ព្រះពុទ្ធសាសនាដើម្បីសិទ្ធិមនុស្សដើម្បីសន្តិភាពសេរីភាពដោយអហឹង្សាស្របតាមច្បាប់ជាតិច្បា់ប់អន្តរជាតិនិង ច្បាប់សាសនាថាជាអ្នកមានទោសខុសច្បាប់ទៅវិញ។ បញ្ជាក់តុលាការសាលាដំបូងក្រុងភ្នំពេញ និងកាត់ក្តី
សំណុំរឿងបទល្មើស ឧក្រិដ្ឋនេះ នៅថ្ងៃ18កញ្ញា2014ម៉ោង8ព្រឹកខាងមុខនេះ ។ អាស្រ័យហេតុនេះ សូមព្រះសង្ឃ
ប្រជាពលរដ្ឋ សាធារណ:ជន អ្នកកាសែតអង្គការជាតិអន្តរជាតិជ្រាបជាព័ត៌មាននិងចូលរួមឃ្លាំមើលនិង
តាមដាន រឿងនេះទាំងអស់គ្នា ទំនាក់ទំនង 012 83 83 22 សូមអរគុណ ៕
Peter Gabriel and Venerable Luon Sovath in New York City at WITNESS' Focus for Change benefit dinner and
 concert co-hosted by Peter Gabriel and Maggie Gyllenhaal. December 2, 2010. PHOTO CREDIT: Ann Billingsley
Posted by

Leelavadee
at 11:24 PM
2 comments:
Links to this post

The 'radical' social experiment of the KR regime in the seventies brought Cambodia down on her knees, but the legacy of that inhumane regime lives on after the next three decades plus of misrule

-

School of Vice
[cambodiaherald]
School of Vice
: The Cambodian government along with health authorities should consider setting up a national quality control commission/watch dog whose primary function will be to check and approve products/goods imported into the country as is the norm in most other countries that put its citizens' health and welfare above profit-making through unethical practices.
The attention and quality check proposed here should be applied across the board to also cover dangerous chemicals and fertilizers used to enhance the quantity of otherwise natural produce such as vegetables, fish, poultry and meats etc. A general ban should also be imposed on domesticated animals such as dogs and cats as well as many other already endangered species in the wild with the offenders liable to receiving a heavy fine, and to being prosecuted for transgressing the law.
Other wild life species also play their part in nature's delicate check and balance act such as birds that feed on insects and snakes that prey on rats. With the birds and the snakes sought after as delicacies and easily caught or shot for sport whilst insects and rats multiplying at a faster rate than their predators, farmers' crops and livelihoods stand at their traditional foes' mercy.
I don't want to turn this into another case of 'putting every blame on the Vietnamese', but it is not a coincidence that the general decline [and in many cases, complete or near liquidation] in Cambodia's traditionally bountiful natural resources has been in tandem with the last three decades of Vietnamese hegemonic influence over the country, and this reality could not have failed but brought with it the devastating effects through the two countries' broad disparities in cultural outlook, socio-demographic stress and pressure etc. which, aided by a corrupt and ineffectual governmental administration has undeniably transformed this nation into what it is today: a scorched, famished land haunted by both the living and the dead [if one is willing to look beyond the 'sky-bridges' and poorly paved roads built to foster the facade of social development and enhance the prestige of autocratic rulers].
In my view and preference, a holistic development must take into consideration all these social factors, and although instances of adverse influences can be seen to display their ethnic accents or 'roots', no community or groups of citizens should be singled out as scapegoats or discriminated against on the basis of perceived ethnicity. Such a holistic and responsible democratic development process can cater for all needs of all citizens in a humanistic, dynamic and above all, equitable fashion.
.
FILE - Sam Rainsy, President of the Cambodia National Rescue Party (CNRP), speaks to media after a meeting at the National Assembly in central Phnom Penh.
VOA August 26, 2014 5:49 AM
PHNOM PENH—
This week lawmakers from Cambodia's opposition party are being voted onto 10 parliamentary commissions. This is a key part of a political deal in which the opposition finally agreed to take its 55 seats in parliament, ending its year-long boycott over alleged vote-rigging in the general election.
The proceedings at parliament are an important step on the road to political normality.
The opposition Cambodia National Rescue Party (CNRP) boycotted parliament for months following the July 2013 general election in which it came close to unseating Prime Minister Hun Sen's Cambodian People's Party.
The CNRP has long claimed that the ruling party cheated its way to a narrow victory. The official result was the opposition won 55 seats in the 123-seat National Assembly, nearly double what it held before. The ruling party lost 22 seats, and now holds 68.
Cambodia's political stalemate lasted nearly a year during which time leader Hun Sen levied a characteristically tough response: public gatherings were banned; several opposition MPs-elect and their supporters were locked up on charges of insurrection; and government thugs administered numerous beatings at protests.
But last month, the two main parties struck a deal for the opposition lawmakers to return in exchange for, among other things, a greater say in the makeup of the Election Commission. Since then, the mood has relaxed. Even Freedom Park, the public space in Phnom Penh that Hun Sen closed for months, has reopened. Both parties are now looking towards the next general election, which is due in 2018.
Opposition party chief whip Son Chhay says he is optimistic for the future.
"This time around it has changed so much. I think both parties cannot afford to do what they please any more - the public is very powerful. I think they are watching the two parties very closely since the two parties are very much equal in support in this country, they have to respond to the public more than they just do what they want. In that regard, the performance in the parliament would be so important, and the deal to allow the opposition to do their job properly - it will greatly help. I believe it's a very good beginning," said Chhay.
លោក សម រង្សី​ និងតំណាងរាស្ត្រគណបក្សសង្គ្រោះជាតិអញ្ជើញ ទៅជួបប្រជាពលរដ្ឋមនារឿងដីធ្លី មកពីខេត្តបាត់ដំបងនិងខេត្ត បន្ទាយ មានជ័យដែលកំពុងដេកស្នាក់នៅក្នុងវត្តពោធិយារាម ហៅវត្តចាស់ដើម្បីស្វែងរកយុត្តិធម៌
ល្ងាច២៦សីហា២០១៤ លោក សម រង្សី រួមនិងតំណាងរាស្ត្រគណបក្សសង្គ្រោះជាតិមួយចំនួន បានអញ្ជើញទៅវត្តចាស់ខាងកើតទន្លេក្បែរស្ពានជ្រោយចង្វាជួបសំណេះសំណាលសួរសុខទុក្ខ ជាមួយប្រជាពលរដ្ឋដែលមានជម្លោះដីធ្លីមកពីប៉ៃលីនខេត្តបាត់ដំបងនិងខេត្តបន្ទាយមានជ័យ
ពោធិយារាមហៅវត្តចាស់ជាង២០០គ្រួសារដែលកំពុងស្នាក់នៅក្នុងវត្តដើម្បីបន្តការតវ៉ា ស្វែងរកយុត្តិធម៌ពីអាជ្ញាធររដ្ឋាភិបាល នៅទីក្រុងភ្នំពេញឲជួយដោះស្រាយដីធ្លីជូនពួកគាត់និង ដោះលែងតំណាង ប្រជាពលរដ្ឋ ចេញពីពន្ធនាគារ ។
Posted by

Leelavadee
at 8:22 PM
1 comment:
Links to this post

អំណោយទានខ្មែរជួយខ្មែរពីអាមេរីកកាលីហ្វ័នីញ៉ានិងពីអូស្ត្រាលី
ទីក្រុងស៊ីដនីជួយជនពិការភ្នែកនិងស្ត្រីមានជំងឺអ្នកភូមិឡពាង
និងប្រគេនបណ្តាញព្រះសង្ឃឯករាជ្យ ។
២៦សីហា២០១៤.ព្រះតេជគុណ លួន សុវ៉ាត បាននាំយកអំណោយទានខ្មែរជួយខ្មែររបស់ញោមប្រុស ឡូ ប៊ុនឡេង និងញោមស្រី ឆៃគីម នៅរដ្ឋកាលីហ្វ័នីញ៉ាសហរដ្ឋអាមេរីក ១០០ដុល្លាជួយយាយតាចាស់ជរា ពិការភ្នែកទាំងពីរដែលមានកូនប្រុសជាប់គុក៦ឆ្នាំព្រោះជម្លោះដីធ្លីជាមួយក្រុមហ៊ុនខេឌីស៊ីរបស់លោកស្រី ជា ខេង លោក ស៊ុយ សែម រដ្ឋមន្ត្រីរ៉ែនិងថាមពលមកពីគណបក្សប្រជាជន រំលោភយកដីហើយ ចាប់ម្ចាស់ដាក់គុកទៀត និង១០០ដុល្លាទៀត ជួយស្ត្រីអ្នកភូមិឡពាងដែលតស៊ូដើរពីកំពង់ឆ្នាំង មកដល់ភ្នំពេញដែលធ្លាក់ខ្លួនឈឺធ្ងន់ធ្ងកំពុងសម្រាកព្យាបាលក្នុងមន្ទីពេទ្យកាល់ឡាម៉ែត្រ ។ ចំណែកថវិការ២០០ដុល្លាអូស្ត្រាលីទៀត ជាជំនួយពលរដ្ឋខ្មែរទីក្រុងស៊ីដនីប្រទេសអូស្ត្រាលី ដែលមាន ឧបាសិកា ជា គីម និងអ្នកស្រី ប៉ិច ធនធារី ប្រគេនដល់ក្រុមបណ្តាញព្រះសង្ឃឯករាជ្យ ដើម្បីជីកស្រះនៅខត្តបាត់ដំបង ។
Parliament will vote for CNRP to take leadership role this morning. We are aware that the country is watching our performance. We will act on this new stage that we will share with CPP. We will set rules that both sides will have to comply with and let the people decide which team deserves their trust.
On 8 August, 2014 , the leader of the Loyal Opposition as that we turn to a new page of dialogue. Since then Mr. Sam Rainsy has written to Mr. Hun Sen to offer his efforts to solve the issue of land conflicts. In return, Mr. Hun Sen is shaping up his officials.
The victims are part of the process of change. They feel empowered and continue their protests, coming into the city as far as Pailin, Bantey Meanchey and Battambang.
This is the new culture of dialogue.
Show time. ~Mu Sochua
លោកប្រធានសមរង្សុី នឹងអញ្ជើញចុះសួរសុខទុក្ខ ប្រជាពលរដ្ឋដែលរងគ្រោះដោយដីឆ្លី មកពីខេត្ត៣ នៅវត្តចាស់រឺ វត្តពោធិរ៉ាម នៅត្រើយខាងកើត ទន្លេ ប្រហែល៥០០មែត្រ ពីស្ពានជ្រោយចង្វា នៅវេលាម៉ោង៤ រសៀល ថ្ងៃនេះ ទី២៦ សីហា ២០១៤ ។
នៅថ្ងៃទី៣០ ០៨ ២០១៤ ខាងមុខនេះ នឹងមានការប្រគំតន្រីមិត្តភាពនៅប៉ារីសចូលរួមដោយ លោកហេងធារ៉ា គឺឣ្នកចម្រៀងសង្រោ្គះជាតិទើបនឹងមកពីប្រទេសកម្ពុជា ឣាសយាដ្ឋានមាន ដូចខាងក្រោមនេះ សូមបងបូ្ឣនមេត្តាចូលរួមឨយបានច្រើនកុះករ សូមឣរគុណ
ភ្នំពេញៈ
នៅពេលលេចឮអំពីការធ្វើជំរឿនជនបរទេស ក្នុងប្រទេសកម្ពុជាដែលក្រុម អ្នកសង្កេតការណ៍ជឿថា នឹងផ្តោតទៅលើអន្តោប្រវេសន៍ជាតិវៀតណាមខុសច្បាប់ បុរសជាតិវៀតណាមកើតនៅស្រុកខ្មែរម្នាក់បង្ហាញពីអារម្មណ៍ភ័យខ្លាចចំពោះការបណ្តេញចេញ។
លោក សុក ហ៊ាង (ឈ្មោះប្រឌិតដើម្បីរក្សាសុវត្ថិភាព) ជាកម្មករសំណង់ អាយុ ៣៣ ឆ្នាំ ដែលកើតនៅរាជធានីភ្នំពេញ មានឪពុកម្តាយជាជនជាតិវៀតណាមបាននិយាយថា៖ «ខ្ញុំភ័យខ្លាចថា ខ្ញុំនឹងត្រូវបង្ខំឲ្យចាកចេញពីរាជធានីភ្នំពេញ ដោយសារខ្ញុំគ្មានអត្តសញ្ញាណប័ណ្ណកម្ពុជានៅឡើយ»។
គាត់ថា៖ «នៅពេលខ្ញុំទៅវៀតណាម ពួកគេចាត់ទុកខ្ញុំ ជាជនជាតិកម្ពុជា ខ្ញុំជាមនុស្សដែលពាក់កណ្តាលជាកម្ពុជា និងពាក់កណ្តាលជាវៀតណាម»។
កិច្ចប្រឹងប្រែងរបស់រាជរដ្ឋាភិបាលក្នុងការរាប់ចំនួនជនបរទេសឲ្យច្បាស់ថា តើមានចំនួនប៉ុន្មាននៅក្នុងប្រទេសកម្ពុជាអាចនឹងជាជំហានទី១ ក្នុងការអភិវឌ្ឍគោលនយោបាយច្បាស់លាស់ជាងមុន ពាក់ព័ន្ធនឹងជនជាតិវៀតណាមដែលមិនមានឯកសាររស់នៅក្នុងប្រទេសកម្ពុជា ហើយដែលចង់ស្វែងរកការទទួលស្គាល់ជាប្រជាពលរដ្ឋខ្មែរ។ នេះបើតាម លោក អង់ ចាន់រិទ្ធ មន្រ្តីនៅអង្គការសិទ្ធិជនជាតិភាគតិច ដែលធ្វើការជាមួយជនជាតិភាគតិចវៀតណាមនៅកម្ពុជា។
Boeung Kak and Lorpeang villagers march near the National Assembly in Phnom Penh yesterday to pressure the government into resolving their land disputes. Pha Lina
May Titthara

,

Pech Sotheary

and

Phak Seangly
Rural communities from seven provinces will demand a resolution to their land conflicts in Phnom Penh today – an action being mirrored at provincial halls nationwide following a speech by the prime minister last week that blamed local officials for ongoing disputes.
The arrival of the hundreds of protesters in the capital comes a day after authorities blocked protesters from three provinces who are staying at the Samaki Rainsey pagoda from marching to the National Assembly to submit petitions calling for action on their disputes.
On August 19, Hun Sen admonished low-ranking officials for not reporting land conflicts to him, saying if they did not inform their superiors of ongoing disputes, they could lose their jobs – a message that rights group Adhoc yesterday said had prompted a rush to file complaints across the country.
"We do not trust the authorities, so today we will take the petition again, and we want to give them it with our own hands," said Ok Sam Ath, a protester who travelled to Phnom Penh last week with a group of villagers from Pailin province's Stung Sen commune.
Sam Ath was joined by about 60 other protesters yesterday from Pailin, Battambang and Banteay Meanchey provinces. After being blocked by the authorities near the pagoda in Meanchey district, the protesters handed their petitions to the deputy district governor.
Chhut Mao, a villager from Battambang province heading to Phnom Penh yesterday with about 300 others, said the protesters had exhausted all official channels at the provincial level in seeking a resolution to their dispute.
"I must bring my problem to show Prime Minister Hun Sen, because I am afraid that the provincial authorities did not report it to him," he said.
Opposition leader Sam Rainsy shakes hands with Prime Minister Hun Sen after a meeting at the Senate building in Phnom Penh last month. Heng Chivoan
Tue, 26 August 2014 ppp
Kevin Ponniah
The National Assembly, which the opposition finally joined earlier this month after boycotting it since September, will officially vote for its leadership today, with the Cambodia National Rescue Party set to take six of 13 permanent standing committee spots.
The unprecedented power-sharing agreement with the ruling Cambodian People's Party has been presented by the CNRP as a breakthrough moment in Cambodian democracy and a chance for substantive debate and scrutiny to enter what has long been regarded as a rubber-stamp institution.
But Sam Rainsy, the only real challenger to Prime Minister Hun Sen in the past decade and the man who led the CNRP in last July's watershed election, will take a back seat in terms of an official position.
As an "ordinary National Assembly member", he will instead be able to advise and guide his "higher-ranking colleagues", he said yesterday.
"I want to give my younger colleagues an opportunity to gain experience, to show how to unselfishly serve the public and to become the new leaders that this country needs," he said.
Rainsy's deputy, Kem Sokha, who headed the Human Rights Party before it merged with the Sam Rainsy Party to form the CNRP, will be the opposition's highest-ranking member in parliament as first deputy president.
The Cambodia Herald, August 23, 2014
PHNOM PENH (The Cambodia Herald) -- 123 lawmakers from ruling Cambodian People's Party (CPP) and opposition Cambodia National Rescue Party (CNRP) will vote on August 26, 2014 to elect new leadership of the National Assembly.
According to the general commissariat of the National Assembly, the agenda will include: Vote for Nguon Nhil (CPP) to be the second vice president, and Kem Sokha (CNRP) to be the first vice president of the National Assembly, and vote for members of the parliament's ten commissions.
According to a source, the candidates for the chairmanship of the ten commissions, are as follows:
1 -- Commission of Human Rights, Complaints and Investigation: Eng Chhai Ieng (chairman, CNRP),
2 -- Commission on Economics, Finance, Banking and Auditing: Cheam Yeap (CPP), Son Chhay (Vice chairman,  CNRP).
3 -- Commission on Planning, Investment, Agriculture, Rural Development, Environment, and Water Resources: Pol Horm (chairman, CNRP)
Posted by

Leelavadee
at 9:45 AM
No comments:
Links to this post

Mark Piggott, IB Times, Aug 25, 2014
The death of an 18-year-old Scottish man in a flooded quarry is being linked to the "ice bucket challenge."
Cameron Lancaster, of Burntisland, Fife, died Sunday. Emergency services — Police Scotland, the Scottish Fire and Rescue Service, and the Scottish Ambulance Service — were called to Preston Hill Quarry near Inverkeithing after he disappeared at around 5 p.m. His body was recovered at around 9 p.m. after four hours underwater.
Cameron Lancaster, 18, died in a tragedy
linked to the ALS Ice Bucket Challenge.
In a statement, Lancaster's family said: "Cameron died in a tragic accident. His death is such a great loss. During his short life, he touched so many people with his friendliness, kindness and thoughtful generosity of spirit. He will be hugely missed by his family and friends. The family are finding it hard to come to terms with this sudden loss and would ask for privacy."
Although the exact circumstances of Lancaster's death are yet to be established, locals say youths have been "tomb-stoning" into the quarry in a new take on the "ice bucket challenge," which has gone viral recently. Usually participants are drenched in freezing buckets of water for charity.
Posted by

Leelavadee
at 9:25 AM
1 comment:
Links to this post

Cameron Lancaster, 18, jumped into the deep waters of a quarry in Inverkeithing, Fife and could not be rescued. It's believed this is the first reported death attributed to the campaign that has raised $79.7 million for ALS.
The death toll from devastating midweek landslides in Hiroshima rose to 50 with 38 others missing on Sunday as fresh rain stoked fears of more disasters and hampered the round-the-clock search for survivors.
Prime Minister Shinzo Abe called off a planned inspection tour of the western Japan city by helicopter on the day as his presence was feared to further complicate the search and rescue mission as rain intensified, media reports said. (AP)
Photo source: dtnews
Posted by

Leelavadee
at 9:02 AM
No comments:
Links to this post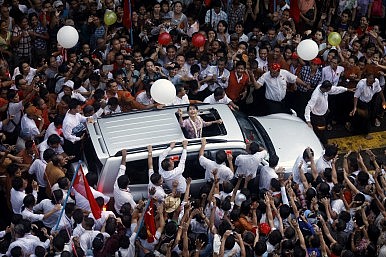 Image Credit: REUTERS/Soe Zeya Tun
Constitutional changes reflect democracy's transitive nature in Southeast Asia.
August 20, 2014 The Diplomat
The good: Five million people in Myanmar signed a petition asking Parliament to remove the undemocratic provisions in the 2008 Constitution. The bad: Thai military authorities enacted an interim constitution that gives sweeping powers to the army. The half-serious: Philippine President Benigno Aquino III hinted that he is open to the idea of amending the Constitution amid declining popularity ratings.
Myanmar's opposition party the National League for Democracy and activist network 88 Generation Peace and Open Society were able to gather 4,953,093 signatures in more than 300 townships across the country in support of the petition to amend certain provisions of the Constitution that perpetuate the military dictatorship.
They focused on Article 436 of the Constitution, which stipulates that any constitutional amendment requires the approval of 75 percent of Parliament. This means that any amendment would need the army's concurrence, since 25 percent of parliamentary seats are reserved for the military. Perhaps the opposition is particularly interested in deleting Article 436 because the provision makes it difficult to scrap Article 59(F), which bars Myanmar citizens with foreign spouses and foreign-born children from running for president or vice president. It is Article 59(F) that is stopping opposition leader and global democracy icon Aung San Suu Kyi from running for president in 2015, since she was married to a British national.
Constitutional reform is seen by the opposition as essential to Myanmar's transition to democracy. Even the Parliament has formed a Joint Committee to Review the Constitution, and this body recently recommended the amendment of more than 450 of the 457 articles in the Constitution, including article 436. For Khin Zaw Win, director of the policy advocacy group Tampadipa Institute, the charter needs to be revised to allow for more decentralization and a devolution of power.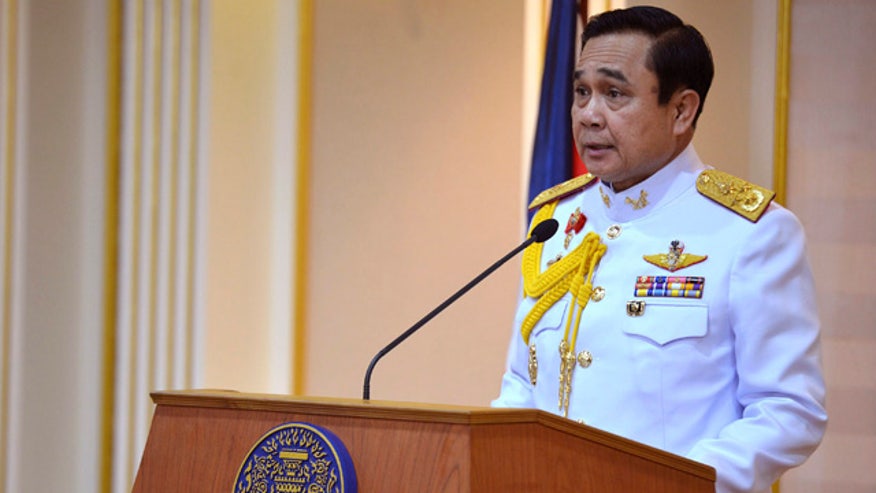 August 25, 2014: In this photo released by Thai Spokesman Office, Gen. Prayuth Chan-ocha speaks after he accepted a written royal command issued by King Bhumibol Adulyadej certifying his appointment as the country's 29th premier in Bangkok in Bangkok. (AP Photo/Thai Spokesman Office)
"Since the May coup, the generals have tightened rather than relaxed their grip on power,"

said Brad Adams, Asia director at Human Rights Watch.

"Instead of the promised path back to democracy through free and fair elections, Thailand's military seems to be opting for a road to dictatorship."

BANGKOK –  Thailand's junta leader, who seized power in a military coup three months ago, officially assumed his new post as prime minister on Monday following an endorsement from the country's monarch.
During a ceremony in Bangkok, Gen. Prayuth Chan-ocha accepted a written royal command issued by King Bhumibol Adulyadej certifying his appointment as the country's 29th premier. Bhumibol, who is 86 and in poor health, was not present at the ceremony.
Thailand's junta-appointed legislature voted overwhelmingly last week to name the 60-year-old army chief to the new post. He was the only candidate.
Prayuth is due to retire from the military next month and will hold both jobs until he does so.
On May 22, Prayuth oversaw a coup in which the military toppled Thailand's elected civilian government. Analysts say his new post cements the military's control of government.
The move was the latest in a series of moves by the junta to consolidate power on its own terms. In July, the military adopted a temporary 48-article constitution and appointed the legislature.
Prayuth, who is expected to name his Cabinet next month, has said elections could be held in 2015.
លោក​​​ប្រយុទ្ធ​​​ ចាន់អូចា​​​កំពុង​​​សម្ដែង​​​ការ​​​គោរព​​​ចំពោះ​​​ការ​​​ទទួល​​​ស្គាល់​​​របស់​​​ព្រះ​​​មហាក្សត្រ​​​ថៃ​​​ឲ្យ​​​លោក​​​ធ្វើ​​​ជា​​​នាយក​​​រដ្ឋ​​​មន្ត្រី​​​។
VOA News 25 សីហា 2014
លោក​ប្រាយុទ្ធ​ ចាន់អូចា (Prayuth Chan-ocha)​ ​បានក្លាយ​ជា​នាយក​រដ្ឋ​មន្ត្រីផ្លូវការ​របស់​ថៃ​ហើយ​នៅ​ថ្ងៃ​ចន្ទ​នេះ​ បន្ទាប់​ពី​បាន​ការ​ទទួល​ស្គាល់​ពីព្រះ​មហាក្សត្រ​ថៃ​ Bhumibal Adulyadej។
លោក​ឧត្ដមសេនីយ៍ប្រាយុទ្ធ ​បាន​ទទួលព្រះរាជសារ​បញ្ជាក់ពី​តួនាទី​របស់​លោក​នៅ​ឯ​ពិធី​មួយ​ក្នុង​ទី​ក្រុង​បាងកក។​ លោក​និយាយ​ថា៖​ «នៅ​ក្នុង​ឱកាស​នេះ ​ខ្ញុំ​សូម​ស្បថ​មុខ​ប្រជារាស្ត្រ​ថា ​ខ្ញុំ​នឹង​ឧទ្ទិស​ខ្លួន​ប្រាណ​របស់​ខ្ញុំ​ និង​ការ​ខិត​ខំ​ប្រឹង​ប្រែង​ដើម្បី​ធ្វើ​ការ​ដោយ​ស្មោះ​ត្រង់ដល់​ប្រទេស​ជាតិ​ និង​ផល​ប្រយោជន៍​របស់​ប្រជារាស្ត្រ​ ​ហើយ​នឹង​នាំ​សុភមង្គល​និង​សន្តិភាព​ជូន​ប្រជា​រាស្ត្រ​វិញ​»។
គួរ​រំលឹក​ថា​លោក​ប្រាយុទ្ធ​ ចាន់អូចា បាន​ដឹក​នាំ​ធ្វើ​រដ្ឋប្រហារ​យោធាទម្លាក់​លោក​ស្រី​ Yingluck Shinawatra​ អតីត​នាយក​រដ្ឋមន្ត្រី​ថៃចេញ​ពី​តំណែង​កាល​ពី​ថ្ងៃ​ទី​២២ ​ខែ​ឧសភា​។
​លោក​បញ្ជាក់​ថា​លោកនឹង​ចុះ​ចេញ​ពី​តំណែង​ជា​នាយ​អគ្គ​សេនាធិការកង​ទ័ព​នៅ​ខែ​ក្រោយ ​ហើយ​លោកនឹង​ធ្វើជា​នាយក​រដ្ឋមន្ត្រី​រហូត​ដល់​មាន​ការ​បោះឆ្នោត​ថ្មី​ដែល​នឹង​ត្រូវ​ធ្វើ​ឡើង​នៅ​ឆ្នាំ​ក្រោយ។ ​ការ​យល់​ព្រម​ដោយ​ព្រះ​មហាក្សត្រ​នៅ​ថ្ងៃ​ចន្ទ​នេះ ​ជា​ការ​បញ្ជាក់​យ៉ាង​ច្បាស់សម្រាប់​ការ​បង្កើត​រដ្ឋាភិបាល​អន្តរកាល​៕
Prince Norodom Sirivudh, Supreme Privy Councellor to the King of Cambodia and former co-minister of the interior, talks at a forum on sustainable development at the Royal University of Phnom Penh on Saturday, August 23, 2014. Representatives from the government, civil society, private sector and other stakeholders gathered in the forum to discuss issues facing Cambodian development, with the financial support from the Asia Foundation, the Voice of America and others. (Nov Povleakhena, VOA Khmer)
Khoun Theara VOA Khmer
25 August 2014
PHNOM PENH—
Experts say that Cambodia's economic growth remains fragile and unsustainable, bringing environmental degradation, social inequality and, at times, unrest to the country.
Cambodia has maintained a high economic growth rate in recent years, up to 8 percent, "but that high growth comes with high costs," said Prince Norodom Sirivudh, who took part in a wide-reaching economic forum in Phnom Penh on Saturday.
Representatives from the government, civil society, private sector and other stakeholders gathered in the forum to discuss issues facing Cambodian development, with the financial support from the Asia Foundation, the Voice of America and others.
Environmental degradation, a widening wealth gap and "social exclusion" have all accompanied growth, Norodom Sirivudh, who is the supreme privy counselor to King Norodom Sihamoni and a former defense minister, said.
"The urban-rural divide is getting more serious," he said. "This leads to social and political tensions and instability. The victims of land grabbing, human right violations, injustice and corruption are calling for help. Who can help them? Who should be responsible and accountable for this?"
Tek Vannara, executive director for the NGO Forum, a coalition of rights, development and other organizations, said Cambodia's growth has brought advantages and disadvantages.
"We see major improvement in infrastructure, the social security net and the livelihood of some people," he said. "At the same time, we are also witnessing major challenges every day, such as land disputes, deforestation and forced evictions, as a result of some development projects."
A young woman reads advertisements for wanted maids outside a shopping mall in Kuala Lumpur. Cambodia's Ministry of Labour says a deal to resume sending Cambodians to Malaysia is a ways off. AFP
The Ministry of Labour plans to delay signing off on a controversial agreement to reopen a pipeline of Cambodian maids to Malaysia until a deal is reached on a second agreement regarding other migrant workers, a ministry official said yesterday.
Labour Ministry spokesman Heng Sour told the Post that no date has been set for the final discussions over the Memorandum of Understanding (MoU) regarding domestic workers, but Cambodia is "proposing [that the] Malaysian side … also draft [a second] MoU" concerning workers including those in manufacture and agriculture industries.
"We want to conclude the two MoU[s] at the same time," Sour said by text message yesterday.
A moratorium was introduced on sending maids to Malaysia in October 2011 amid mounting concerns over abuses, including rape and starvation, which led to several deaths.
Earlier this month, a Malaysian employers association, which has observed the drafting of the new agreement, revealed to the Post alleged details of the drafted MoU.
The illegal bear trade continues across Asia on a "staggering" scale, with Cambodia leading the continent in seizures of bears and bear parts, according to a study from conservation NGO Traffic.
From 2000 to 2011, 190 seizures were made in Cambodia, out of nearly 700 seizures in Asia. Live bears made up 15 per cent of all of Asia's seizures, with Cambodia leading in this area as well, possibly because the bears were on their way to "bear farms" in Vietnam and China so their bile, popular in traditional Chinese medicine, could be extracted.
"The number of seizures are a credit to the enforcement agencies, but they undoubtedly only stop a fraction of the overall trafficking because bear products are still widely and easily available across Asia," Chris Shepherd, director of Traffic in Southeast Asia, said in a statement.
The study notes that Cambodia's high number of seizures is not necessarily negative. Even though the Kingdom reported 27 per cent of Asia's seizures, the Kingdom accounted for only 9 per cent of the 2,800 bears, confiscated either still alive or dead and in parts.
Caption: In northern Nineveh province, hundreds of Yazidis were killed and up to 2,500 kidnapped in early August, Pillay said, citing testimony from victims and witnesses. Yazidis fled their ancient homeland of Sinjar and other villages to escape the militants, who regard the ethnic minority as devil worshippers
MailOnline, 25 August 2014
The persecution of entire communities and systematic violations by the al-Qaeda offshoot, documented by U.N. human rights investigators, would amount to crimes against humanity and war crimes under international law, she said in a statement.
'Grave, horrific human rights violations are being committed daily by ISIL and associated armed groups,' Pillay said, citing targeted killings, forced conversions, abductions, slavery, sex crimes, forced recruitment and destruction of places of worship.
'They are systematically targeting men, women and children based on their ethnic, religious or sectarian affiliation and are ruthlessly carrying out widespread ethnic and religious cleansing in the areas under their control.'
Christians, Yazidis and Turkmen were among the minorities targeted by the Sunni militant group, which has forced people to convert to their strict form of Sharia law, she said.
Posted by

Leelavadee
at 2:50 AM
2 comments:
Links to this post

Mon, 25 August 2014
Meas Sokchea
The royalist Funcinpec Party is once again feuding over a relocation of its ever-shifting political offices.
In this latest case, officials claim offices in Tbong Khmum province and Kampong Thom province, as well as the headquarters in Phnom Penh, were sold without internal approval.
But party secretary-general Nhek Bun Chhay said the Tbong Khmum office has not been sold, while the other two have just been moved.
According to a letter sent to Funcinpec president Princess Norodom Arun Rasmey on August 8 by the chief of the party's buying and selling commission, Meng Hour, the deputy chief of the commission, Soeng Kiry, signed a contract to sell Funcinpec headquarters on National Road 6A in Russey Keo district.
"During my absence, I did not transfer rights to colleague deputy chief of commission in selling party headquarters at all," Hour said in the letter.
Hour said yesterday the committee had actually agreed in principle to the sale, and he was writing to inform Rasmey of that decision.
Bun Chhay said the party had simply moved the headquarters and the provincial office in Kampong Thom to better locations, though he did not provide details of the arrangement.
"New location is closer, it is easy to work," he said, referring to the headquarters, which is said to also be in Russey Keo.
In a separate letter, Arun Rasmey claimed the permanent committee had not seen details of the contract and urged Kiry to make them available.
Disputes over the sale of party offices are nothing new for Funcinpec, which has managed to stay active on that front despite not having won a seat in last year's elections.
About eight years ago, Prince Norodom Ranarridh was pushed out of the party after accusations that he profited from the sale of the party headquarters.
Bun Chhay faced similar allegations in January, when Funcinpec dismissed an official for accusing him of conspiring to sell party headquarters for personal gain.
Security forces in Phnom Penh use electric batons last week to disperse about 300 protesting villagers from Kratie. At least 10 people were injured in the clashes. Pha Lina
Mon, 25 August 2014 ppp
May Titthara and Daniel Pye
The United Nations in Cambodia has registered a sharp rise in the number of forced evictions in rural areas over the past year, UN Special Rapporteur for Human Rights Surya Subedi has said in a report.
The annual report submitted to the UN secretary-general on August 15 and published on Saturday comes on the heels of Prime Minister Hun Sen announcing on August 18 that he would establish a new committee to review land concessions handed out to private companies.
Subedi wrote that the past year "has been one in which one of the key components of a vibrant democracy – an engaged and informed electorate free to express its views – has clearly emerged".
However, he noted that the Office of the High Commissioner for Human Rights had recorded a steep rise in the number of violent forced evictions from disputed rural land.
"Incidents included the burning and bulldozing of houses and shelters, often without notice or court orders mandating the action, and arbitrary detention of those who defended their property,"
the report said. "This followed a period of relative calm during the period preceding and immediately following the July 2013 national elections."
The events, the report continued, involved "a number of incidents of excessive use of force by the authorities" and direct action on the part of protesters in the absence of official avenues to resolve their disputes.
August 25, 2014
The Cambodia Herald, 25-Aug-14
PHNOM PENH (The Cambodia Herald) -- The Committee to Promote Women in Politics (CPWP), and civil society groups in Cambodia have asked the National Assembly and ruling Cambodian People's Party (CPP) to keep Mrs. Khuon Sodary as second vice president of the National Assembly.
In a statement issued on Monday, the groups said the selection and maintaining of Khuon Sodary as the second vice president of the National Assembly is very important for promoting gender in the leadership of the National Assembly.
The request came just a day before 123 lawmakers from ruling Cambodian People's Party (CPP), and opposition Cambodia National Rescue Party (CNRP) will vote Tuesday to elect their new leadership.
Nguon Nhil, CPP's senior official who has currently served as the first vice president of the parliament, will be elected as second vice president of the parliament, while the post of first vice president will go to Kem Sokha, vice president of CNRP. Heng Sarin, CPP's honorary president, remain the president.
Khuon Sodary, former second vice president of the National Assembly.
Posted by

Leelavadee
at 9:19 PM
4 comments:
Links to this post